Film Transfer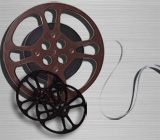 Our DVD experts will take your 8mm and Super 8mm film and transfer them to DVD using state of the art equipment and processes.

Your precious film will be handled with the utmost of care. All film is cleaned and lubricated prior to the transfer process in order to prevent breakage and remove accumulated dirt and debris. Each frame is captured separately to give you the best playback possible. Multiple reels will be combined and a full-motion
thumbnail index menu makes it a snap to find the scene you are looking for.
Our exclusive process eliminates the flicker that is common when film transfers are performed by videotaping the movie off of a movie screen. Our clients are amazed by the quality of their movies once they are converted to DVD… but don't take our word for it see for yourself,
*If you're not satisfied with the finished result… We'll give you your money back!
$0.25 per foot, minimum order $40
*does not include editing or authoring
How do you determine the total amount of footage?
Use the table below to get a close estimate of the amount you have:


| | |
| --- | --- |
| Reels | Feet |
| 3" Reels | 50' of film |
| 5" Reels | 200' of film |
| 6" Reels | 300' of film |
| 7" Reels | 400' of film |
Example: 50' X .25cents a foot = $12.50 per 3" reel.
*a half hour of film uses 10 – 12 songs, and 50 ' of film runs approximately 3 1/2 – 4 Minutes depending whether it's standard 8mm or Super 8mm.