Bridal Services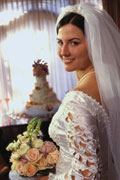 When it comes to your wedding nothing is more important than having your entire day captured for a lifetime on video.
Our Professional videographers will do whatever it takes to ensure that every special moment of your wedding day makes it to your wedding video. Each time your video is played it will be like reliving your special day all over again.
At Allied DVD Productions it's about more than video tapping a wedding. It's about capturing special memories; your special memories, memories that can be passed down for generations.

Allied DVD Productions will assemble your wedding video in four separate but very important parts.

1. Montage
We start off your Montage with up to 50 photo's 20 of the bride, 20 of the groom and 10 of the bride and groom together prior to the wedding day. The montage shows the Bride and Groom from childhood to present day and is a real treat for wedding attendees to see on video shown during the reception.

2.Church/Wedding Service
Your wedding service will be the most important part of your day and we will capture every magical moment. From the procession to "You may now kiss the Bride." we've got it covered.

3. Reception
Here is where being on the ball really counts; we will be right along with you from the first dance, to tossing the garter. Every moment will be captured on your wedding DVD.

4. Highlights
This is an overview of your wedding day that comprises all the highlights of your very special day from the service all the way through to the end of your reception.

* Love Story
Are you looking for a special way to share your love story with your wedding guests? We recommend a love story where both the bride and the groom share their experience documentary style of how they met when they first kissed and how the proposal was presented. This is a quite a crowd pleaser and we guarantee there won't be a dry eye in the room after seeing this.
If you wish, Your Wedding DVD will be produced with your Wedding Picture printed directly on your DVD and Case Cover for a truly professional look. ( all DVD's are laminated to protect the surface from smudges and fingerprints.)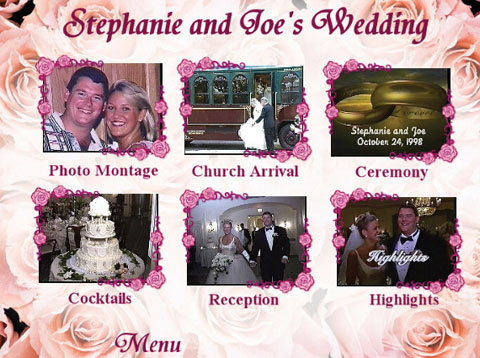 A custom menu with action thumbnails allow you to jump to any part of your wedding day without having to fast forward or rewind like the old VHS tapes required.
All in all your special day will be preserved for everyone close to you to see and enjoy
over and over again…
Other Events Include: Anniversaries, Birthdays, Family Reunions, Graduation, Memorials, Bar/Bat Mitzvahs, Sweet 16's or your own special occasion.
Florida Wedding Videos | Wedding Pictures | Love Stories | Wedding Services | Wedding Video Productions | Wedding Videographer | Wedding Video